The Georgia National Fair in Perry GA

For me, the fair always conjures up memories of cotton candy, clowns, and plenty of family fun. Fortunately, the Georgia National Fair in Perry GA has arrived to help bring back those memories and create new ones.  
From Oct. 3rd-13th, 2013, Perry will be bustling with activity as the 24th Georgia National Fair runs its 11-day annual event.  
This years theme is "There's Magic in the Fair!" and visitors who attend between 8:00 a.m. and 10:00 p.m. each day will be entertained and amazed with a myriad of concerts, rides and games, exhibits, nightly fireworks, lots of food, horse shows, livestock, petting zoo, street entertainers, and a plethora of vendors selling their items.
---
Georgia National Fair Prices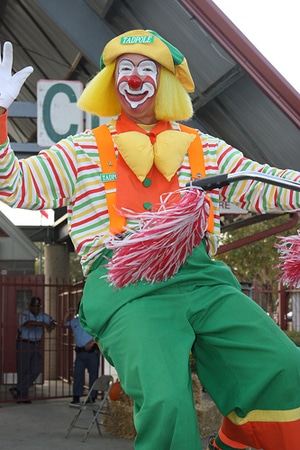 Adults pay $10.00.  Kids 10 and under get in FREE with a paying adult.
Military and their immediate family members get in FREE on Oct 7th (with military ID cards). 
Come out on Oct 8th and the gate admission is only $8.00 for adults.
Seniors pay only $8.00 and groups of 20 or more adults pay $9.00. Check at the gate for advance pass prices.
Parking is FREE.
Ride Armbands are $20.00 daily and are good for unlimited rides (some restrictions apply).
Come out on Terrific Tuesday (Oct 8th) and pay only $16.00.
Single tickets are $1.25 and sheets cost $12.00 (12 coupons), $24.00 (26 coupons), or $60.00 (65 coupons)
The rides (60+) start up at noon during the week and 10:00am on the weekends. They run until 9:00 p.m. each day.
Georgia National Fair Entertainment
Concert performers include Grammy Nominee Hunter Hayes (Oct 5th), Justin Moore (Oct 12th), Thompson Square (Oct 12th), Colby Dee, The Atlanta Pleasure Band, Redhead Express, and a host of other talented performers in a variety of genres.
Other entertainment includes a circus, Hatfields and McCoys high dive show, ShenaniGuns! comedy wild west show, mutton bustin', nightly fireworks, petting zoo, sea lion shows, pig racing, story tellers, human/animal stunt shows, and plenty of gifted singers and performers. There is truly something of interest for every family member!
For more Georgia National Fair information contact the event staff at 478-987-3247 or by e-mail at cellerbee@gnfa.com.
As always, Middle Georgia events are provided as a courtesy by your Warner Robins Real Estate Specialist, Anita Clark Realtor.
Photos provided courtesy of GNFA.
The Georgia National Fair in Perry GA